October tuition discount code deadline: Nov 1, 11:59pm
original message
Dear Pre-med Students:
 
A quick reminder that our October offers, including multiple FREE and Ultra-Low-Cost MCAT initiatives, end at midnight this Thursday (Nov 1st). 
 
We have incredible offers for both students interested in 1-on-1 mentoring AND self-study students:
Boost your MCAT score by as much as 10 points for only $15
Premier Self-Paced Study Course: Regular Price = $1,799. For a limited time only, pay only $399.
Get FREE Face-to-Face MCAT Tutoring from a 99th-100th-percentile MCAT Mentor
Save $hundreds on tuition for our Guaranteed 90th-Percentile-Score 1-on-1 Mentoring Programs.
Bottom line, we're committed to revolutionizing MCAT prep. Our new goal is to help 100% of the pre-meds in the U.S. and Canada earn the same Groundbreaking MCAT Scores we've been getting Altius students for over a decade. 
 
To accomplish this, Altius is removing financial barriers so that any student can access the best 1-on-1 MCAT Mentoring. We are awarding millions of dollars in scholarships, deep tuition discounts, a $15-Buck-MCAT Offer, and even a FREE 90-Day MCAT Course. No more excuses. You can afford elite MCAT mentoring and accurate practice materials. The only ingredient left is your hard work!
 
***Here's a list of the amazing October offers mentioned above***
 
Through midnight November 1st:
 
1. 15-BUCK-MCAT Offer - Last year, students who took advantage of this offer improved their MCAT score by an average of 3 to 5 points, and many students improved by 10 points or more. You get $275 of 1-on-1 Mentoring + a $40 Full-Length Exam, for only $15. That's a 95% discount. Learn more or sign-up here: http://altiusmcat.com/15buck.
 
2. Premier Self-Paced MCAT Course -  It's hard to argue this isn't the best MCAT prep value...ever. This October, self-study students can get: All the AAMC Full-Length Exams, all the Altius Full-Length Exams, all the AAMC Section Banks, all the Altius Section Banks, the AAMC Official Guide to the MCAT, the Altius Student Study Manual, (1) One-Full-Year of online access to the Altius Student Study Portal, and MORE...for only $399. It's everything you could possibly need to prep for the MCAT on your own, or with a study group. Pick up your Premier Self-Paced MCAT Course today: http://altiusmcat.com/selfpaced.
 
3. FREE Online Tutoring -  Altius is now offering FREE online access to our elite MCAT Mentors from 4:00 PM to 8:00 PM Pacific every Monday and Tuesday, and from 1:00 PM to 5:00 PM Pacific every Wednesday and Thursday. These LIVE, face-to-face webinar sessions are led by highly-trained instructors who have scored in the 99th-100th percentile on the MCAT. Learn more at http://altiusmcat.com/freetutoring
 
4. October Tuition Discount CODES: Enter the following codes at http://altiustestprep.com/programs before midnight on November 1st.
$300 OFF Platinum 1-on-1 Mentoring Programs with code: OCTPLAT
$200 OFF Gold Programs with code: OCTGOLD
$100 OFF Silver Programs with code: OCTSILVER
$2,000 OFF any Platinum Program with a Mentor-in-Training Scholarship. Apply here:http://altiusmcat.com/MITapp
$1,000 OFF any Gold Program with a Mentor-in-Training Scholarship. Apply here:http://altiusmcat.com/MITapp
Do you know one of our Altius Tutor-Mentors? They have an exclusive $600 discount code, but you have to get it from them directly.
5. FREE 90-Day MCAT Course - For over 13 years now...students who completed our 1-on-1 Mentoring Program have destroyed the MCAT--smashing national score averages. Without question, the KEY to those success stories has been our 1-on-1 Mentoring System. However, we're simply sick and tired of hearing from students who wasted time and money on ineffective prep courses, or wanted to take Altius but couldn't afford it. This is our solution. While it's only a sample of the full Altius experience, this 90-Day Course is legitimately a superior option to any traditional MCAT prep course...and its FREE! Learn more at http://altiusmcat.com/90day.
The Word is Out! Altius is the Fastest-Growing MCAT Prep Course in the Nation! Check out this map...our 140+ locations now cover nearly every state in the nation!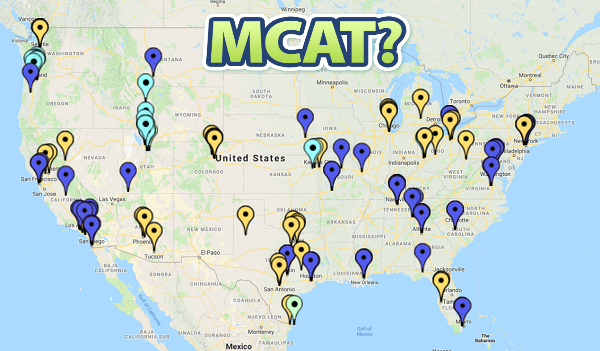 Don't live near one of the above locations? Check out our Live, Face-to-Face MCAT Everywhere option:http://altiusmcat.com/everywhere
Altius has a designated MCAT Advisor and Campus Director for every college and university in the U.S. and Canada. Call today for a FREE, no-pressure consultation with your local representative.